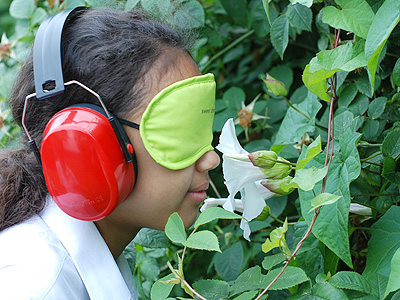 Sensory Deprivation Map
Christian Nold
May 2007 - ongoing

Download a full quality PDF of the Newham Sensory Deprivation Map here
"Normally we perceive our surroundings using 5 senses - sight, sound, smell, touch and taste. What happens when we walk through our environment without sight and sound?"
The Newham Sensory Deprivation Map is the result of an intensive workshop with 36 art students from Newham Sixth Form College. The students were put into pairs, one of whom was blindfolded and given ear defenders so that they could not see or hear. The other student was given a Global Positioning System as well as pen and paper. Together these two would explore the local area around the college for up to an hour. The idea being that the blindfolded and deafened student verbally relates their sensory experience to the other student who is taking notes and making sure they are safe during the journey. On their return the geographical data from their walk is downloaded from the GPS and all the sensory observations made during the walk are spatially recorded the map. This map is the combined annotations of all the students during the workshop and forms an alternative sensory map of Newham.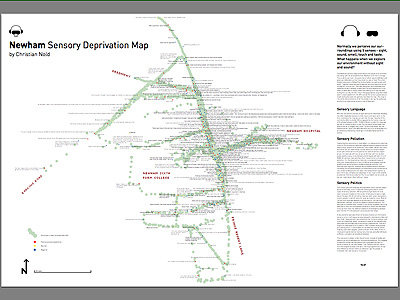 View of the whole of the Newham Sensory Deprivation Map.




Detail of the Newham Sensory Deprivation Map.
---------------------------------------------------------------------------
Christian Nold christian@softhook.com
---------------------------------------------------------------------------
Last Updated 3/3/2011
------------------------------
It has been an enourmous long time since I last updated this! I have never been a blog person, and felt irritated by the way new media culture pushes us to be constantly visible to the world. Recently though I kept getting email from people wondering what I was up to. So today is my birthday and I have finally given in :) . So a quick update I am excited about what Rob van Kranenburg and I are calling the Internet of People - which will be a book coming out in the next few months. I am also exstatic about trying to build and map alternative currencies. Take a look at the Bijlmer Euro project. In the last year I have also been building a unique mapping software called Sensory Journeys and the Town Toolkits for which I will build a proper site. On Saturday I am off to Helsinki for the Pixeache festival where I am preseting some work but more importantly working on and island toolkit for the next year. More info soon...