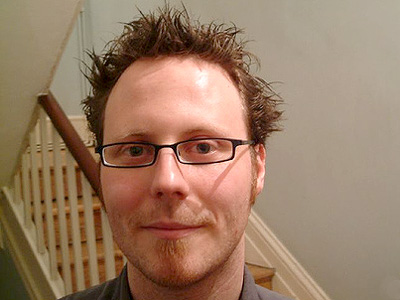 Christian Nold
Christian Nold is an artist, designer and educator working to develop new participatory models for communal representation. In 2001 he wrote the well received book 'Mobile Vulgus', which examined the history of the political crowd and which set the tone for his research into participatory mapping. Since graduating from the Royal College of Art in 2004, Christian has led a number of large scale participatory projects and worked with a team on diverse academic research projects. In particular his 'Bio Mapping' project has received large amounts of international publicity and been staged in 16 different countries and over 1500 people have taken part in workshops and exhibitions. These participatory projects have a strong pedagogical basis and grew out of Christian's formal university teaching. He is currently based at the Bartlett, University College London.
---------------------------------------
Download the full CV as PDF file for printing
---------------------------------------

EDUCATION
2004 MA Interaction Design - Royal College of Art

1999 BA Fine Art Intermedia - Kingston University
1996 BTEC Art and Design - Brighton College

EMPLOYMENT
2005 - present University Teacher ' Electronics Clinic '
The Bartlett, University College London. Tutorial based teaching on interactive environments and physical computing
for architecture students.
2005 - 06 University Lecturer ' New Media Histories '
South Bank University, London. Lecturing on the transition from photography and cinema to New Media.
2004 - 05 University Lecturer. Institute of Digital Arts and Technologies, Plymouth, UK. Lecturing New Media theory as well as hands on interactive programming.
2000 - 01 Interaction Designer. Lowe Broadway, London
Working for a commercial agency building websites and interactive tools.

FUNDED RESEARCH PROJECTS
2007 - 08 Mapping Change for Sustainable Communities
2 year research project working with local communities to develop online local maps to reflect their issues and priorities.
Government funded. Partners: UCL, London 21 and Planning Aid
2007 - 08 Creative Mapping
2 year research into new artistic mapping models developed with young people in schools. Funded by Arts Council England.
Partners: Iniva and local London schools
2006 - 08 SciArt - Evaluating Bio Mapping
2 year reasearch project into the application of bio feedback for personal and comunal reflection. Welcome Trust funded. Partners: Welcome Trust, Goldsmiths, UCL
2005 - 06 ITTACA
1 year long project into new educational structures for politically engaged culture. European Commission funded. Partners: Foundation Hicter, Arcada, Casino Luxembourg, Forum d'art
2004 - 05 Mobile Education
6 month ethnographic research project into the use of mobile phones for education in rural India. Centre for Knowledge Societies funded. Partner: CKS
2000 - 01 Mobile Vulgus
1 year research project into the history of crowd policing
and possible civil society responses. UK Arts Council funded. Partner: Book Works

SELECTED PUBLICATIONS
2008 Emotional Geographies - Edited Christian Nold Welcome Trust - ISBN 978-0-9557623-1-4
2007 Stockport Emotion Map - Christian Nold
Softhook - ISBN 978-0-9557623-0-7
2007 San Francisco Emotion Map - Christian Nold Southern Exposure - ISBN 978-0-9796007-1-5
2006 Greenwich Emotion Map - Christian Nold Independent Photography - ISBN 0-9546725-3-4
2005 Legible Mob - Making Things Public
Chapter contribution. Edited Latour & Weibel, MIT Press
ISBN 0262122790
2005 Day-to-Day-Data
Exhibition catalogue. Angel Row
ISBN 0905634713
2005 Bug Report - Christian Nold
JODI interview for Mute Magazine
Issue 29, Feb 2005
2001 Mobile Vulgus - Christian Nold
Book Works - ISBN 1 870699 56 4

SOLO PROJECTS / EXHIBITIONS
2008 Emotion Mapping
Watermans Gallery, London
Solo exhibition bringing together previous maps and a new local mapping project.
2007 San Francisco Emotion Map
Southern Exposure, San Francisco, USA
2 month participatory mapping project with daily workshops.
2006 - 07 Mapping Fulham
Fulham NDC, London, UK
6 month participatory mapping project.
2005 - 6 Greenwich Emotion Map
Independent Photography, London UK
6 month participatory mapping project with weekly workshops.
2001 Mobile Vulgus
Arnolfini Gallery, Bristol, UK
Performance.

SELECTED GROUP EXHIBITIONS
2007 Emotional Systems - Palazzo Strozzi, Florence, Italy
2007 Dislocate - Ginza, Koiwa Tokyo, Japan
2007 Zoom - Santa Monica, USA
2006 Fête promise - CCC, Tours, France
2006 CrashtestDummy - Munich, Germany
2006 CrashtestDummy - Ljubljana, Slovenia
2006 Always On, Sonar - Barcelona, Spain
2006 ITTACA - Marcel Hicter Foundation, Brussels, Belgium
2006 The Information - London Gallery West, London, UK
2006 Day to Day Data - Danielle Arnaud, London, UK
2005 State of Mind - Bios LSE, London, UK
2005 Day to Day Data - Angel Row, Nottingham, UK
2005 Day to Day Data - Aspex, Portsmouth, UK
2005 Making Things Public - ZKM, Karlsruhe, Germany
2004 TCM Hack - Deaf 04, Rotterdam, Holland
2004 The Show - RCA, London, UK
2003 War. Respond - RCA, London, UK
2002 Broadcast - Cubitt Gallery, London, UK
2001 Mobile Vulgus - Catalyst Arts, Belfast, N. Ireland
2001 Mobile Vulgus - Book Works, London, UK

SELECTED LECTURES
Christian has lectured at numerous academic, cultural institutions and conferences including:
Pop!Tech, New York University, Yale, Stanford, Goldsmiths, Royal College of Art, Tate Modern, Liverpool Biennal, ISEA, Saint Martins, Westminster University, Middlesex University, Spacex Gallery, Platform Istanbul, Turku University, Nottingham University, John Moore University, CCC France, ZAIM Japan, ZDB Lisbon, Digital Cultures Nottingham, Platform Istanbul, Huddersfield University, Center for Knowledge Societies, Spacex Gallery, DEAF 04, RIXC Riga, AAG

SELECTED PRESS COVERAGE
CNN, New Scientist, BBC World Service, BBC, Discovery Channel, Slashdot, Art Forum, Guardian, The Observer, Art Monthly, Digicult, Washington Post, Boing Boing, Mute Magazine, Sleazenation, Telepolis, British Council, Süd Deutsche Zeitung, Chinese FHM, Dagbladet, Denver Post, Fast Company, Fibreculture, Furtherfield, LA Times, Liberation, Metro, Salt Lake Tribune, Time Out, USA Today, World Changing, Core77, We-Make-Money-Not-Art, Fast Company

RESIDENCIES / AWARDS
2007 Residency in San Francisco
2 months @ Southern Exposure, US
2006 SciArt Award
Wellcome Trust, UK
2006 Residency in Turku
1 month @ Ars Nova Museum, Finland
2005 - 06 ITTACA Award
Marcel Hicter Foundation, Belgium


---------------------------------------------------------------------------
Christian Nold christian@softhook.com
---------------------------------------------------------------------------