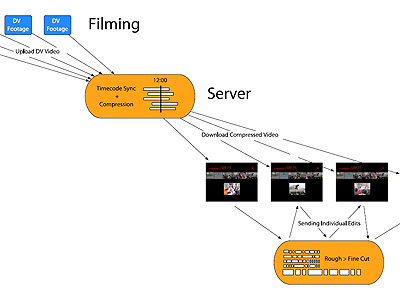 Community Edit
Christian Nold
2004 - 05
This project envisages a new model for grassroots video production and distribution.
Instead of only focusing on the problems of distribution like the V2V project, this system imagines a radically distributed network of content providers and editors.
Community Edit allows video content to be editing by all members of the community in a recursive fashion generating a "Community Edit".
The project uses a client / server model. The client part of Community Edit client is available for download as a fully functional stand alone demo.
Community Edit Client for MAC OSX
dmg file (2.7 meg)
Community Edit Client for Windows
self extracting executable (3meg)
Download the 6 example videos for use with the application or drop your own videos into the "movies" folder
(30ish meg each)
1st movie
2nd movie
3rd movie
4th movie
5th movie
6th movie
This Quicktime video shows a Community Edit in progress:
Simulated editing session (39meg)
---------------------------
This Diagram explains the function of the whole of the Community Edit system.
PDF Diagram (1.3meg)
Process:
1 Members of a community upload DV footage of a particular event to a server.
2 The server analyses the time code in the rushes and places the footage into a temporal matrix.
3 The client software allows the members of a community to view this footage chronologically and create their own video-edit.
4The user can see an event from six simultaneous but separate viewpoints. An edit-in point is made just by moving the cursor over one of the video clips.
5 Clicking the mouse on any of the video windows toggles backwards and forwards between the playback and edit modes.
6 Each individual edit is stored and loaded back into the temporal matrix where it can be reedited in a recursive fashion.
7 As more members of the community use the system a rough edit is produced. This communal edit becomes finer and finer with each user.
8 This subsequently results in a "Community Edit" which can be output as a film at full DV quality from the server.
---------------------------------------------------------------------------
Christian Nold christian@softhook.com
---------------------------------------------------------------------------