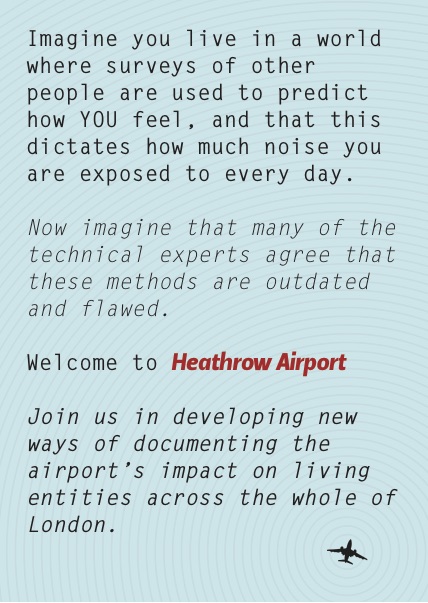 The project is part of the show Rest & its discontents exhibited at the Mile End Art Pavilion 30 September – 30 October 2016
Private View Thursday 29 September, 18.00 – 21.00
The Prototyping a new Heathrow Airport installation consists of 2 mono speakers that project live sound streams from people's gardens. The first is in Windsor,  6.5km west of the the runways of Heathrow airport. The second is in Camberwell is 24km from the runways of Heathrow. Small LCD screens on each speaker show live decibel data over the last half and hour as well as static photographs of the microphone locations.
Mile End Art Pavilion is a 4-minute walk from Mile End tube station. Buses 25, 277, D6 and D7 stop close to the station. Further information is available from tfl.gov.uk. A step-free route from the station is available here.
This was exhibited at the Wellcome Friday Late Spectacular: Hubbub on the 4th of September 2015.